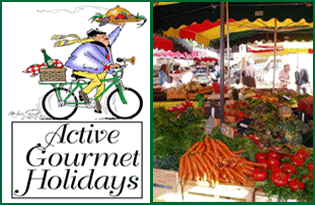 Whether it be learning to master local dishes from a renowned chef in the heart of Provence, biking amidst the spectacular red poppy fields of Chianti, or tasting fine Tuscan wines from the Brunello region, Active Gourmet Holidays offers the perfect escape.

• Sample the world's finest cuisine
• Savor internationally renowned wines
• Step inside different cultures

We offer outdoor activities, such as biking the coast of Spain or hiking the Italian Riviera, to afford you the opportunity to stay fit - all the while indulging in the gastronomic delicacies your palate desires!

• Culinary instruction for both the sophisticated and casual cook
• Combination holidays for those who enjoy variety or for traveling companions with different interests - Cooking and Biking or Hiking, Italian Lessons and Cooking, Food and Wine, Yoga and Cooking
• Visits to famous vineyards and local food producers
• Small groups so as to offer a more intimate setting

If you have a passion for travel, enjoy the outdoors and possess a love for food and fine wines, browse our enticing selection of tempting escapes - exciting itineraries, a mix of breathtaking destinations and a varied price range. With Active Gourmet Holidays you can enjoy the hidden pleasures of a foreign land like never before!
Website
www.activegourmetholidays.com
Year Established
2002
Program Description
Day cooking classes; 1-day to 2-week culinary, wine & active vacations that include hands-on cooking lessons, vineyard tours, visits to food markets & local food producers, cultural excursions
Number of Programs/Year
100+
Group Size or S:T Ratio
1-14 max
Program Focus
French, Healthy/Vegetarian, Italian, Professional Workshop, Spanish, Vacation, Wine
Faculty
1-4 instructors
Costs
$150-$300/day cooking class, $1,500-$5,000/week. Most programs include 3- to 4-star lodging, villas, farmhouses or B&Bs, meals & wine, planned excursions, transfers.
Global Locations
France
Greece
Italy
Morocco
Peru
Portugal
Spain

Months
Year round
Sponsor's Calendar Link
www.activegourmetholidays.com/main.htm
Sponsor's Facebook Page
www.facebook.com/ActiveGourmetHolidays
Contact
Jo-Ann Gaidosz
Specialty Travel Consultant
Active Gourmet Holidays
One Gaidosz Way
Derby, CT 06418
United States
Phone:

203-732-0771


Fax: 203-732-5125
E-Mail: